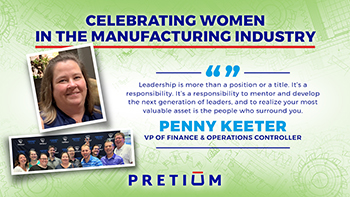 In this month's Women in Manufacturing spotlight, Pretium Packaging is proud to recognize Penny Keeter, Vice President – Finance & Operations Controller. Penny brings over 34 years of professional experience, a passion for mentorship, and a philosophy that people are a company's most important asset.
Penny began her journey when she joined Intertech Corporation after answering a newspaper ad for an Office Manager. Still in college, she wasn't sure what the Office Manager position would entail, but the ad said Intertech was "willing to train," and the family-owned business not only worked with Penny's school schedule, but it also paid for education from that point forward.
"The chance that was given to me, and the idea of someone being 'willing to train,' has stuck with me and been the basis for how I look at leadership," Penny says. "Always be quick to give others a chance and willing to train them. Investing in people is what leadership is all about."
Being an entrepreneur with a very small staff, the owner of Intertech firmly believed in knowing the business from top to bottom, including out on the manufacturing floor. "I spent as much time on the manufacturing floor as I did in the office," Penny says. "I spent years being exposed to almost everything in the plant short of turning wrenches – from packing bottles to scheduling the plant to purchasing raw materials to digging into "how is this made" – at the same time functioning for years as the only accounting/finance person at Intertech."
Pretium acquired Intertech in 2015, and Penny has continued to embrace opportunities to learn more and advance within the organization, from regional leadership to her new corporate finance position. She was named VP of Finance and Operations Controller in 2021 as Pretium made some of its most ambitions acquisitions. "This was a newly created position, and in the year I've held the position, we have made tremendous progress with integrating Alpha and Grupo Edid," she says. "It's been another learning curve in my career to go from leading a region to now leading all sites in the US and Canada. I am so fortunate to have a team of co-workers who are all willing to step up and help wherever, whenever needed.
"Leadership is more than a position or a title. A responsibility to be compassionate to the co-workers that help support you and the company in its success. A responsibility to never take people for granted, to mentor and develop the next generation of leaders, and to realize your most valuable asset is the people who surround you."