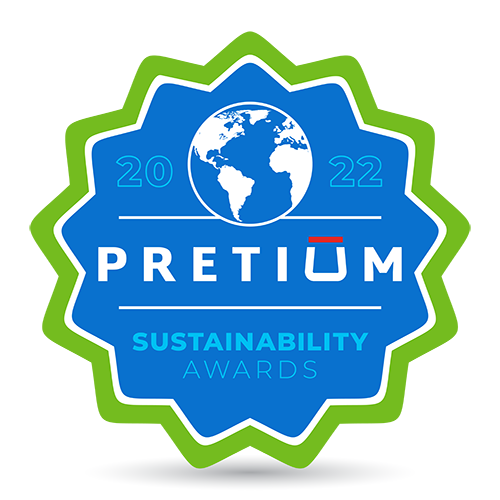 Will your company win a Pretium Sustainability Award in 2022?
We are currently accepting nominations for our 2022 Sustainability Awards. Customers and suppliers are eligible for awards, which will include:
Most Innovative Sustainable Packaging Launch
Eighty per cent of the new projects Pretium is quoting include some consideration for sustainability. Want to meet or exceed retailers' requirements for PCR? Remove 10% to 30% of the weight of your package without compromising performance? Make your product more recyclable? Bring your supply chain closer to you manufacturing? This award will recognize the customers who work with us in 2022 to launch new products in a package that considers all the ways packaging impacts the environment and makes a deliberate choice to be sustainable.
Most Impactful Material Conversion
Every day, Pretium helps companies evaluate their current packaging to determine ways to make it more sustainable. Can they move from a polypropylene closure to a lighter-weight and more recyclable HDPE closure? Are they currently using non-recyclable multi-layer pouches? Is there a plant-based bioresin they could easily substitute for a petroleum-based resin with no compromise in quality? Our Sustainability and Innovation team can navigate these opportunities with you to make sure your conversion to a more sustainable packaging material is seamless – and that your brand gains consumer preference for its commitment.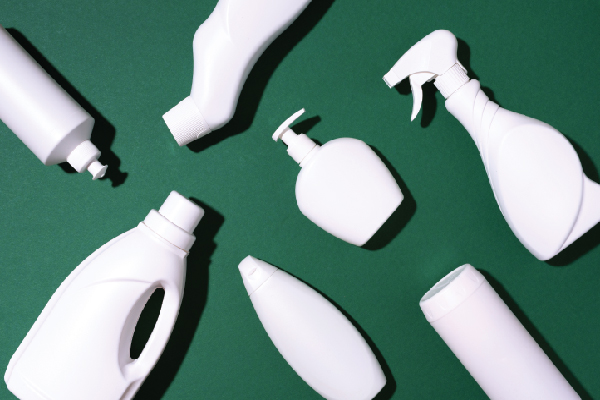 Most Substantial Greenhouse Gas Reduction
There are so many ways a brand can reduce its GHG emissions: converting to lighter-weight packaging; moving from energy-intensive glass to PET or HDPE plastic; using 100% post-consumer plastic instead of virgin. Pretium can help customers understand their options and validate those efforts through third-party life cycle analysis. This award will recognize a brand or company whose LCA shows the greatest reduction in green house gas emissions.
We applaud the customers and suppliers that reach out to us every day to take the first step in sustainability. Companies of all sizes are putting time and effort into reducing their impact on the environment through thoughtful packaging decisions that reduce. We welcome nominations from businesses of all sizes, locations and maturity. We offer increased exposure for the exemplary accomplishments of leaders, initiatives and organizations working to reduce the impact of their business on our environment.
See examples of our 2021 winners below!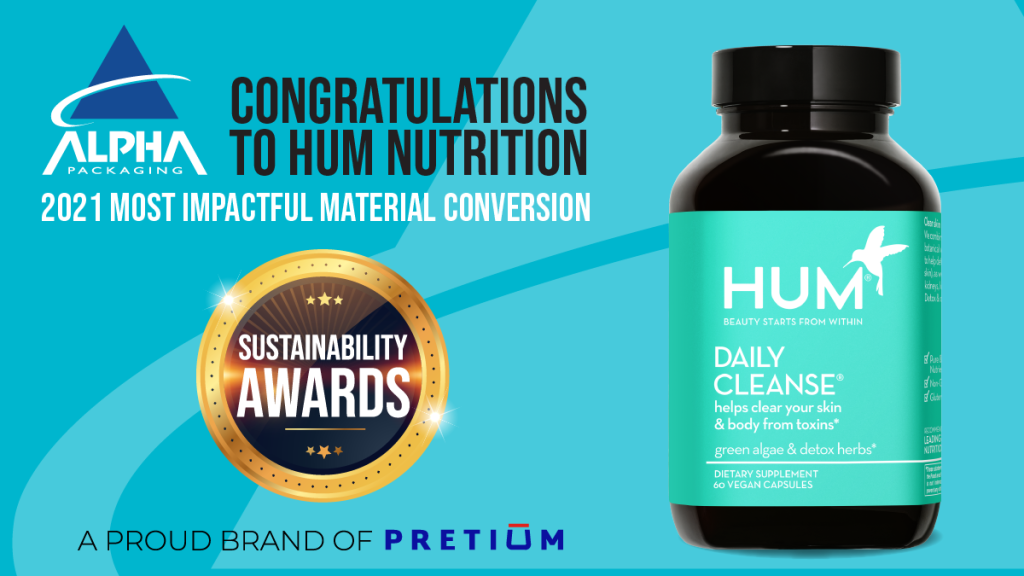 HUM Nutrition: Most Impactful Material Conversion 2021
Congratulations to HUM Nutrition, our 2021 winner for the most impactful material conversion. HUM is truly leading the charge in sustainable packaging with a huge focus on preserving our oceans. HUM is the first Nutraceutical customer to launch in Ocean Bound PET, which is post-consumer PET resin certified by Ocean Cycle as coming from a location where the plastic is at risk of becoming ocean waste.
For their project, which launched on Earth Day 2021, HUM built a new custom mold with Alpha with the intention of using Ocean Bound resin. They understood the supply chain risks associated with Ocean Bound PCR, but because this was so important to their company they found a way to secure long-term resin supply. Sustainability is embedded in HUM Nutrition's culture, and the company has laid out clear sustainability goals and a sophisticated marketing plan that educates their consumers about the many ways they are making packaging choices that protect the planet.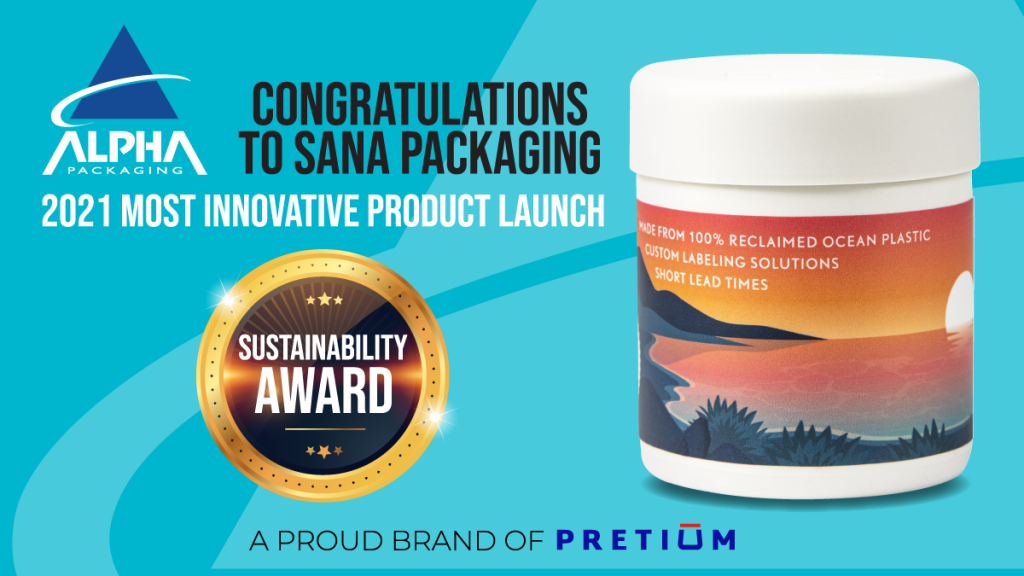 SANA Packaging: Most Innovative Product Launch 2021
SANA Packaging is a full-service packaging distributor focused on the needs of the legal cannabis market. They are also an innovator in sustainable packaging, and almost every item in SANA's portfolio has an environmental advantage over the standard offerings in its industry.
In early 2021, SANA partnered with Alpha to launch a 4-ounce 53-400 Jar in Ocean Bound HDPE PCR. Like Ocean Bound PET, the HDPE is collected in communities within 30 km of the ocean or a major tributary, and is certified to come from an organization that diverts plastic that would otherwise end up in the ocean.
Taking it one step further, SANA also developed a custom smooth 53mm closure in 100% Ocean Bound HDPE PCR so its customers can offer a fully sustainable solution to the cannabis market.