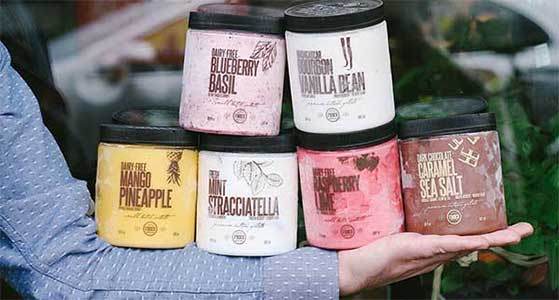 Fiasco Gelato
Originally founded as a scoop shop in 2003, Fiasco Gelato was acquired by its current ownership in 2009 and faced several challenges set the company on a rather unique path. With a disruptive vision for doing business differently, honesty in craft, and innovation in consumer packaged goods, Fiasco Gelato charted a course for a business model like no others in its space. In 2015 it opened its only retail space that includes take-home quantities of its delicious and all-natural gelatos.
One unique aspect of the company's retail offerings became its use of clear PET plastic jars for the 19-ounce take-home portions of its standard and seasonal flavors. Fiasco reached out to a packaging distributor, Container and Packaging of Eagle, Idaho, who has a robust stocking program for PET jars.
Because the gelatos are made from natural – and often colorful – ingredients, it was important for customers to be able to see the product in the clear plastic. And, because a big pressure-sensitive label would have also obscured the contents, Fiasco Gelato chose the direct screen printing services of Alpha's Technigraph division to splash its playful flavors across the packaging.
More recently, Pretium helped Fiasco convert all its PET jars to 100% post-consumer resin which is safe for food contact. This move helps Fiasco meet its own sustainability objectives and continue its environmental stewardship in the Canadian market.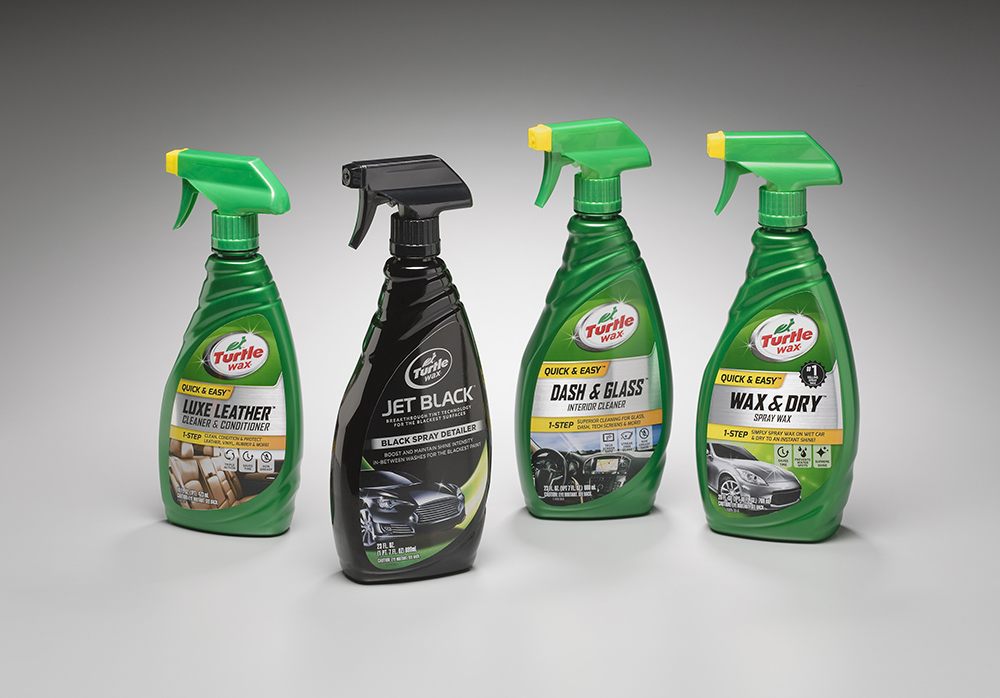 Turtle Wax Sprayers
Turtle Wax wanted to launch a new line of automotive appearance products by the spring 2014 season, and it wanted a new, custom line of polyethylene terephthalate (PET) bottles across three sizes (16oz, 23oz and 26oz). The company evaluated options from several packaging suppliers, and ultimately selected designs created by Studio 111, a division of Berlin Packaging. Berlin selected Pretium to manufacture the new bottles since Pretium has worked with Turtle Wax for over 20 years to bring many products to market in both stock and custom packages. As an experienced supplier to the automotive market, Pretium also had the existing preforms required to quickly develop custom solutions, and were known for our ability to match opaque metallic colors for 2-stage PET bottles.
All three of the bottles in the new line incorporate 30% post-consumer PET plastic, which saved a total of 52,650,000 grams (or more than 116,000 pounds!) of virgin resin across 4.5 million bottles of varying sizes. The 16oz bottle was light-weighted from 43 grams to 34 grams (21% reduction), and the 26-ounce bottle was light-weighted from 53 grams to 43 grams (19% reduction), for a total savings of 28,000,000 grams (62,000 pounds!) of plastic. And, from a cost-saving perspective, by using existing PET preforms and in-house tool building resources, Pretium was able to bring the whole line to market quickly and within budget.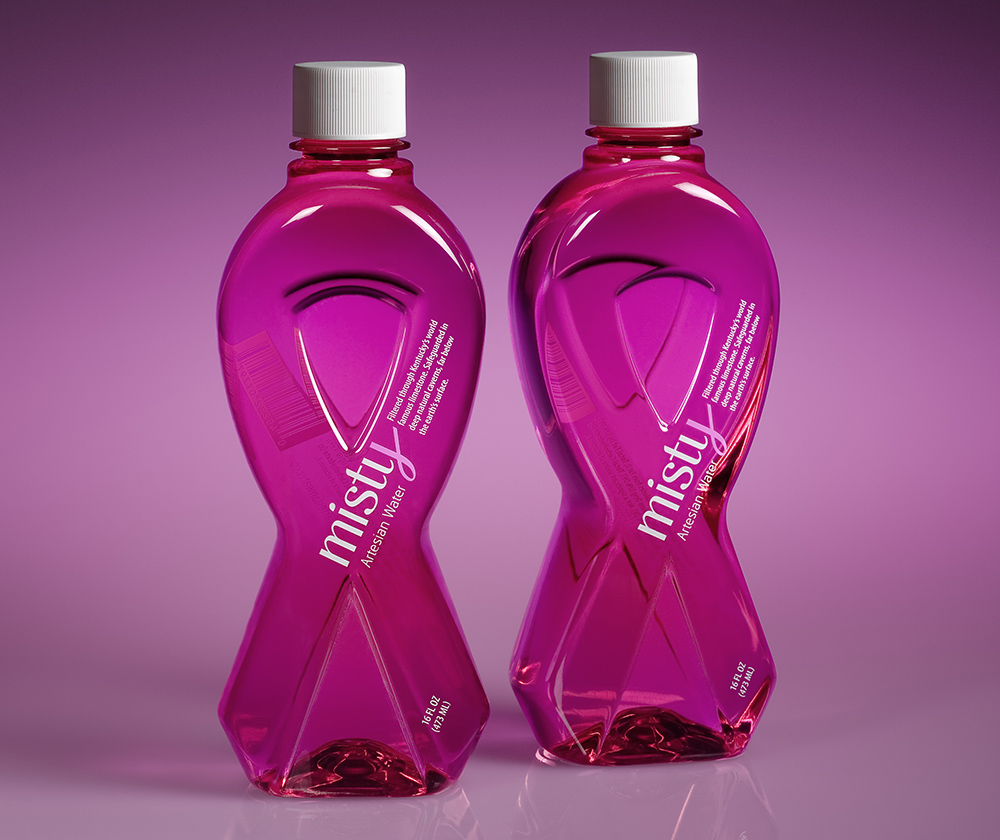 Misty Artesian Water
Breast Cancer Awareness Month has become one of the United States's most prominent "cause campaigns," and Pretium Packaging got involved in 2013. Our Breast Cancer Awareness Bottle or "ribbon bottle" as it has been called, is a custom water bottle built for our distributor customer, Container and Packaging Supply, for their customer Misty Artesian Water.
The Misty Artesian Water "ribbon bottle" not only features the outlined shape of the iconic breast cancer ribbon, but it also has debossed areas in the center and bottom (both front and back sides) to truly echo the appearance of a pinned ribbon. The 16-ounce bottle is made using the 2-stage PET process in Cleveland, and it utilized an existing 28-PCO preform.
Two-color screen printing, which is uncommon in the bottled water segment, reinforces Misty's "pure for the cure" mission, and allows Misty Artesian Water to communicate marketing content and mandatory nutrition facts on the odd-shaped bottle. Direct screen printing was done at Technigraph.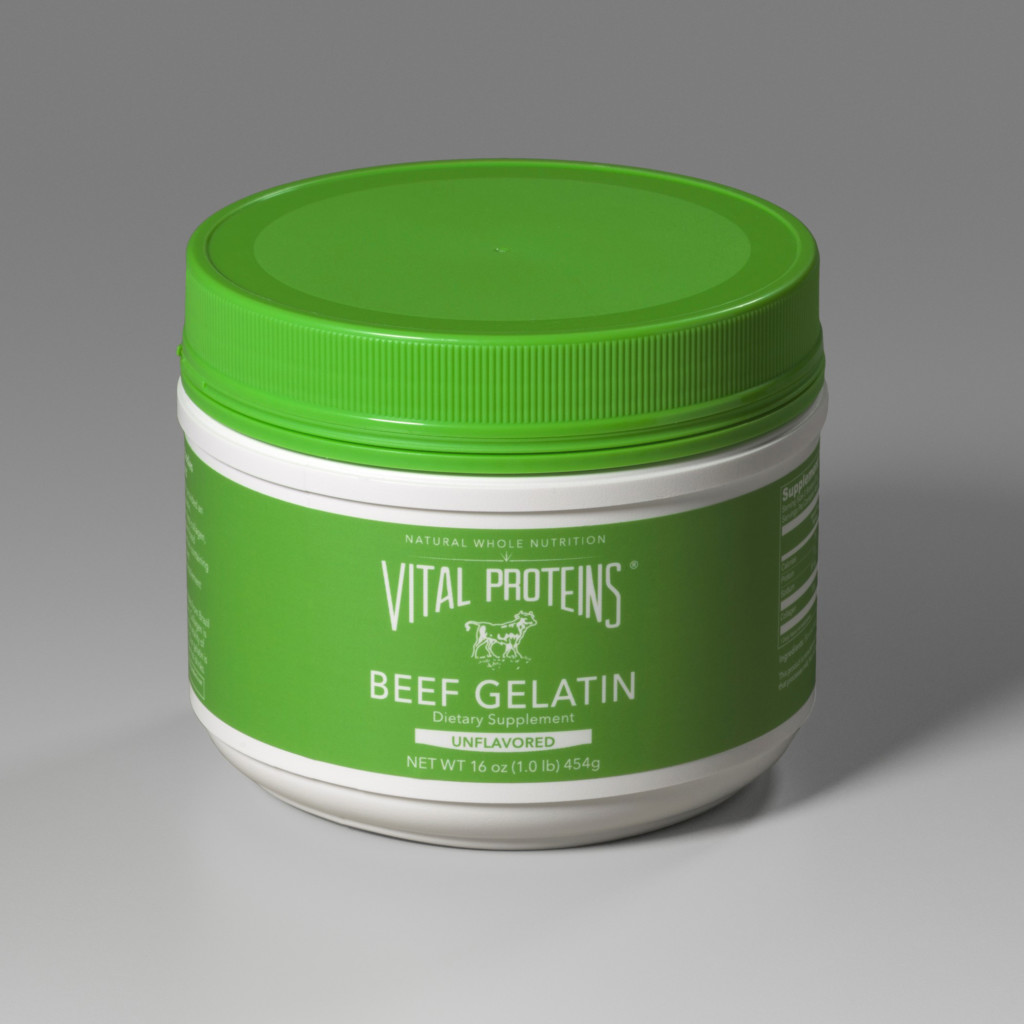 Vital Proteins
Vital Proteins is the segment leader in collagen supplements in powder, capsule and bar formats. Collagen is an essential nutrient stripped from most normal diets by modern food processing. The company's mission is to help people feel better and live fuller lives through sustainably-sourced nutrition products.
Vital Proteins has relied on Pretium Packaging for its white HDPE packers and canisters since the brand began its high-double-digit growth spurt several years ago. Both the stock and custom canisters feature a "Pano" neck finish that accommodates a Panocap brand tear-strip tamper-evident feature. Custom-colored deep-skirt Pano closures match the colors of the labels for each different formulation.
In 2019, Vital Proteins relied on Pretium to help it launch its new line of "Vital Performance" pre-workout, recovery and sleep supplements. To distinguish the Performance line from its regular collagen peptides products, Vital Proteins wanted to use a custom gray color that would be similar to the "Space Gray" used for Macbooks. Pretium was able to help narrow down the exact hue with PMS color chips, and the end result was a Metallic Slate Gray that is used across several different bottle sizes.