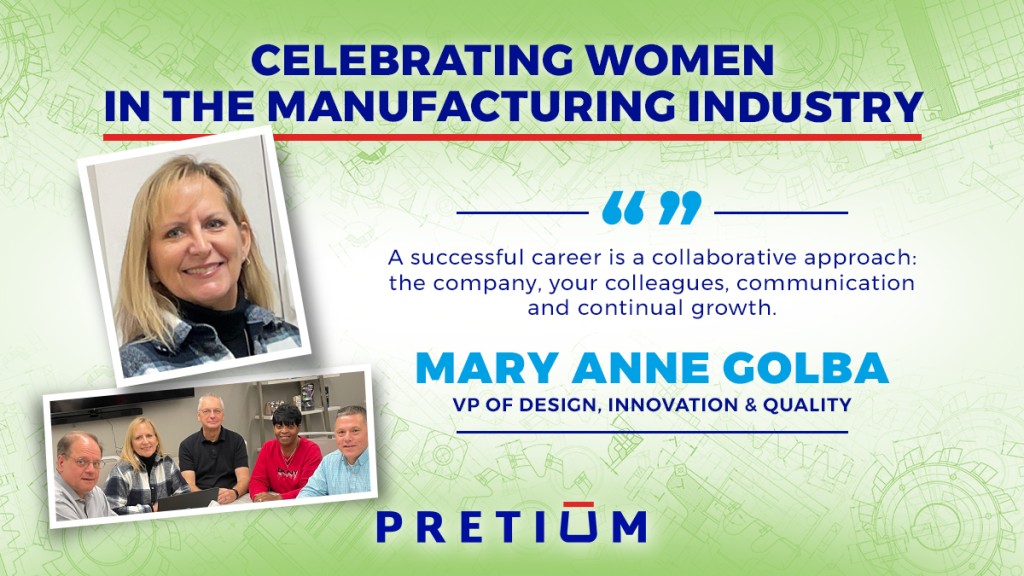 January 16, 2023 – Pretium Packaging is a workplace that provides opportunities to women for advancement, and we are recognizing some of our successful female leaders in a series we call "Celebrating Women in Manufacturing."
This month Pretium is proud to recognize Mary Anne Golba, our VP of Innovation, Design & Quality. With her technical background and attention to detail, she shares her expertise across all departments to drive excellence. She is also in a customer-facing role that allows her to collaborate with customers to improve quality and engineering outcomes through shared quality standards.
Mary Anne started her career with a chemical/nuclear dual engineering degree. Her chemical/nuclear engineering program consisted of a small core group of students comprised of 50% male students and 50% female students. During her last semester, she started a job with Geauga Company (a subsidiary of Carlisle Corp) as a chemist. In this role, she developed and revised rubber compounds for production and was responsible for all related production materials including paints, adhesives, and metal inserts. One cool project she worked on was developing rubber and plastic materials for a patented "Plastomeric" process which allowed her to be named co-inventor for the "Plastomeric Flex Seal" patent (this product was used as a door seal in Buick, Oldsmobile and Cadillac cars).
After several promotions into a Quality Manager role, Mary Anne then moved into the plastics manufacturing industry. She started at Progressive Plastics (which is the current Pretium Cleveland, Ohio site) as the Director of Quality, and has continued to rise through the ranks of the organization. In 2010, when Alpha Packaging purchased Progressive Plastics, she moved through the Corporate Quality department and became the Director of Quality. In 2021, Pretium acquired Alpha, and Mary Anne joined Pretium's Sustainability and Innovation Team as Senior Director of Commercialization. Most recently she was named VP of Innovation, Design and Quality which is a role that encompasses all the skills she has acquired over 26 years with the combined organization.
"I love working within the Sustainability and Innovation Team," Mary Anne says. "We not only have great leadership within our team, but we also truly feel like a family. I get the opportunity to work across all regions and departments including Operations, Sales, Product Engineering, Process Engineering, as well as overseeing unique projects that use a variety of materials & designs. In addition, I am now overseeing quality which allows me to use my many years of quality experience within this new role. I believe good quality leads to a stronger market position and plays a critical role in sustainability and innovation."
Mary Anne says having a leadership role at Pretium gives her great exposure to every facet of the business. "I absolutely love the fact I get to collaborate with great cross-functional teams," she says. "I get the opportunity to work closely with my own team but also support and assist teams across Pretium including Sales, Manufacturing, Finance/IT and Procurement. I love the technical aspects of my job and trying innovative ideas and designs."
The technical aspects of her position can also present challenges, and the need to think creatively about solutions that benefit the customer and the teams around her. "My greatest challenge, at times, can be combining my need to be extremely detail oriented with the need to trust my "gut" when making decisions. I believe a good leader combines the need for detailed data, statistics and technical knowledge with a "gut" instinct when making good decisions for their team and the company."
Mary Anne sees her industry – and Pretium Packaging in particular – as a place that women and men can learn and grow with the support of more experienced co-workers. "For anyone entering the technical side of packaging, I would tell them to value both internal and external relationships with all levels of personnel," she says. "It is important to listen and trust the people who work hard every day at the plant level as well as corporate and senior management. I believe a person should always give full effort to support their fellow employees as well as direct reports and cross functional team members. Nurturing those relationships and providing strong and honest technical support is the key to success. I could not have had a successful career without the awesome employees and teams I have worked with throughout the years."
Not all of Mary Anne's inspiration comes from her work relationships. "I would like to emphasize how much my family inspires me. My daughters have told me how much they respect me for my technical background, my work ethic, and my continuing drive to do the best I can each day. I am blessed to have a family (which includes 12 grandchildren!) that has always supported my career." Mary Anne says having a husband in the industry has also helped. "He is understanding of the long hours and late-night calls, and his support has meant everything. Also, being organized at both work and home is essential to having everything run smoothly," she says.
Mary Anne says true success requires a team effort. "It is one thing to look at your own career and successes, but true success is not your own…it takes a team of people to build success," she says. "A successful career is taking all the pieces, it's a collaborative approach; the company, your colleagues, communication, and continued growth, this together is what truly makes a successful career."