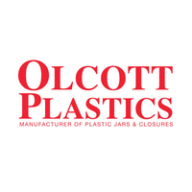 Chesterfield, Mo., April 16, 2019—Pretium Packaging, a leading North American manufacturer of plastic containers and closures, is pleased to announce that it has joined forces with Olcott Plastics, Inc. of St. Charles, Illinois, through an acquisition. Olcott meaningfully bolsters Pretium's injection molding and personal care/beauty offerings while Pretium allows Olcott to offer blow molded containers and a national footprint to its customers.
For the past 50 years, Olcott has created a strong brand as a leading supplier of primary packaging to premier beauty and healthcare companies. It specializes in injection molding and decorating of single and double wall polypropylene (PP) jars, "seamless" PET jars as well as injection molding and lining of PP closures. Many of its original customers from 1969 who were serviced from the back of the family station wagon still buy from the company today.
In keeping with Pretium's ongoing acquisition philosophy, existing employees and management of Olcott will be retained.
"We are pleased to welcome co-owners Joseph M. Brodner and John Brodner, and the Olcott employees, to the Pretium organization. The acquisition brings significant beauty care packaging expertise and a robust product line to the Pretium portfolio, which nicely complement the health and beauty care packaging offerings already in our portfolio. We are proud to add Olcott to our family of brands," said Paul Kayser, president and chief executive officer of Pretium.
"Joining forces with Pretium is a perfect fit for the next chapter of Olcott Plastics. We are excited to be able to offer our customers a broader product portfolio and national footprint while continuing to provide the same level of service they are accustomed to receiving from Olcott. We believe this transaction will be beneficial to both our customers and employees," said Joseph and John Brodner.
David Golde, managing director at Genstar Capital, stated, "Genstar is excited to be sponsoring Pretium's acquisition of Olcott, which is the sixth acquisition completed during Genstar's ownership. Olcott brings to Pretium significant expertise and market presence in injection molding and personal care packaging, both of which represent key areas of continued investment and growth for Pretium."
P&M Corporate Finance (PMCF) served as Olcott's financial advisor in the transaction.
Visit Olcott Plastics website here
About Pretium
Pretium Packaging is a leading North American manufacturer of plastic containers and closures for the food, specialty beverage, household and industrial cleaner, sports nutrition and health, and beauty product industries. Pretium manufactures approximately two billion PET and HDPE containers annually from its 17 locations across the United States and Canada for more than 700 customers. For more information: www.pretiumpkg.com.
About Olcott Plastics
Olcott Plastics was founded in 1969 and grew under the direction of Joseph F. Brodner Jr. until the late 1980′s when he was joined by his sons Joseph M. Brodner and John Brodner. Over the past 50 years, the company has become an injection molding, mold building, printing and cap lining powerhouse, producing more than a million plastic jars and closure combinations a day.
About Genstar Capital
Genstar Capital (www.gencap.com) is a leading private equity firm that has been actively investing in high quality companies for over 30 years. Based in San Francisco, Genstar works in partnership with its management teams and its network of strategic advisors to transform its portfolio companies into industry-leading businesses. Genstar currently has approximately $17 billion of assets under management and targets investments focused on targeted segments of the industrial technology, healthcare, software, and financial services industries.