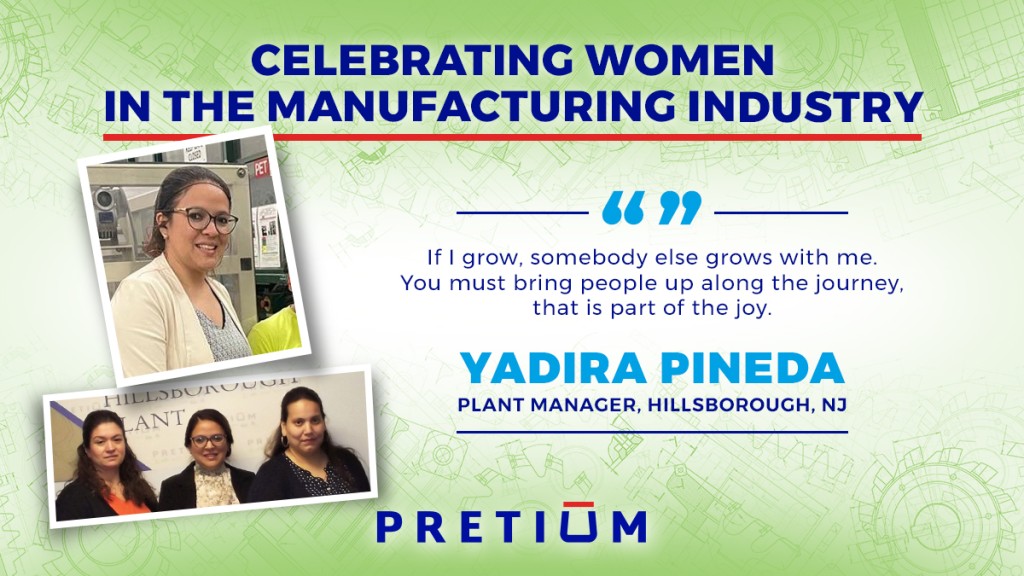 Pretium Packaging stands out in an industry that traditionally employs many more males than females. Across its global network of more than two dozen locations, over 43.7% of its employees are female, which is well above the industry standard average of 32.1%.
"Pretium is a workplace that focuses on gender balance, and this has enabled us to achieve high level of female representation," says Lisa Huett, Director of Sustainability & ESG. "We want to continue to inspire and promote women in manufacturing leadership roles."
This month Pretium Packaging is highlighting Yadira Pineda, who was recently promoted to Plant Manager of Pretium's Hillsborough, New Jersey facility. Hillsborough has over 60 manufacturing lines,144 employees and produces packaging primarily for the spice and condiment industry.
Yadira was born in Guatemala; it was there that she received her degree in teaching. In 2002, she had an opportunity to visit the United States and found an entry-level position at a plastics manufacturing plant. It was never in her plan to stay in manufacturing, but Yadira's drive for learning and growing in this industry propelled her to continue to get promoted. Seventeen years later she still has the same passion for people and manufacturing, and a leadership role in the Pretium organization.
Yadira is still a teacher at heart. When asked about what she has enjoyed thus far on her journey in manufacturing, she replied, "If I grow, somebody else grows with me. You must bring people up along the journey, that is part of the joy."
"I am so appreciative to Pretium, this is a company that doesn't give roadblocks, they open doors to people who want to grow," says Yadira.