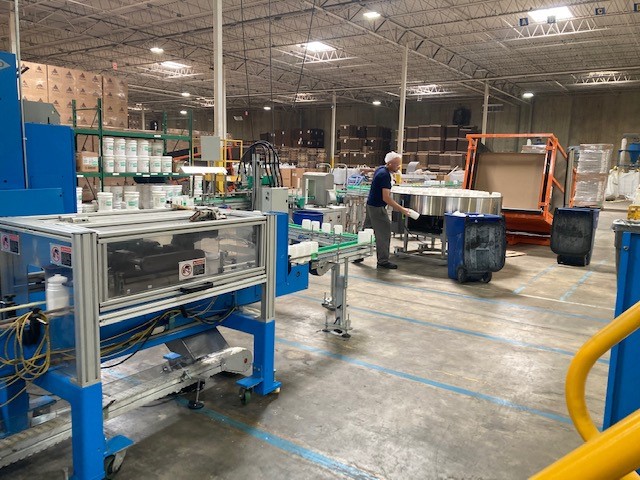 Pretium Packaging has replicated thirteen sizes of its most popular jars and canisters from the Custom Blow Molding (CBM) sports nutrition packaging line, and is now making these bottles at its Jacksonville, Florida location. This is the first time CBM's industry-leading high-density polyethylene (HDPE) product line has been available in the southeastern United States.
The Jacksonville plant, which previously housed only injection stretch blow molding for polyethylene terephthalate (PET) bottles and jars, is the newest plant in Pretium's 26-plant network to offer extrusion blow molding of HDPE jars and canisters.
Marny Bielefeldt, Pretium's Vice President of Marketing, says the company had been looking to expand the CBM line to more locations, and the Jacksonville plant offered plenty of manufacturing and warehousing space. "The CBM line is already manufactured at several other plants in the Pretium network, but nothing in the southeast," she says. "These larger containers are very freight-sensitive, so putting this line in Jacksonville allows us to serve sports nutrition and active nutrition customers up and down the east coast." Bielefeldt says this is consistent with CBM's business model of offering the same items from multiple convenient locations. "Customers can trust the CBM line to perform equally well from the manufacturing location closest to their filling operations."
Items currently available from Pretium's Jacksonville plant include:
HDPE Smooth Jars with 89mm necks:
14oz
16oz
19oz
20oz
25oz
32oz
HDPE Canisters with Lip with 100mm necks:
32oz
40oz
46oz
HDPE Canisters with Lip with 120mm necks:
44oz
55oz
60oz
70oz
All thirteen blow molds are production ready, and the plant is taking orders now. If customers need other sizes or styles from the CBM product line, they can speak with their Pretium account manager. Pretium also as the ability to design and manufacture custom HDPE jars and canisters using the equipment now installed in Jacksonville. Lead times are extremely short, and customers who place orders now can expect to have sports nutrition packaging delivered before the end of the year.