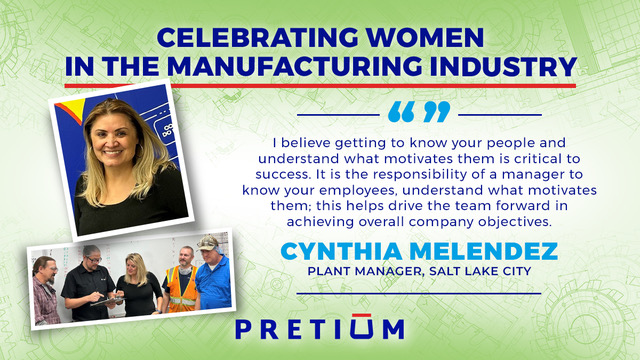 October 30, 2023 – Pretium stands as a progressive workplace dedicated to fostering women's professional growth and development. Our unwavering commitment to gender balance has resulted in an impressive representation of female talent. We are dedicated in our mission to inspire and champion women in leadership roles within the manufacturing industry.
This month, Pretium Packaging is thrilled to shine a spotlight on Cynthia Melendez, who has recently been promoted to Plant Manager at our Salt Lake City, Utah plant. This plant is one of Pretium's largest and most complex manufacturing facilities, representing virtually every resin and molding platform utilized within the Pretium network.
With a background in Human Resources and a wealth of experience in the field of Manufacturing, Cynthia possesses the ideal foundation to excel in her new role. Her profound dedication to both people and processes is exemplified by her outstanding track record. Cynthia firmly believes that a manager's responsibility extends to knowing their team members and understanding their motivation, as this fosters overall success for both the company and the individual. As an organization, we take immense pride in highlighting Cynthia as one of our key leaders.