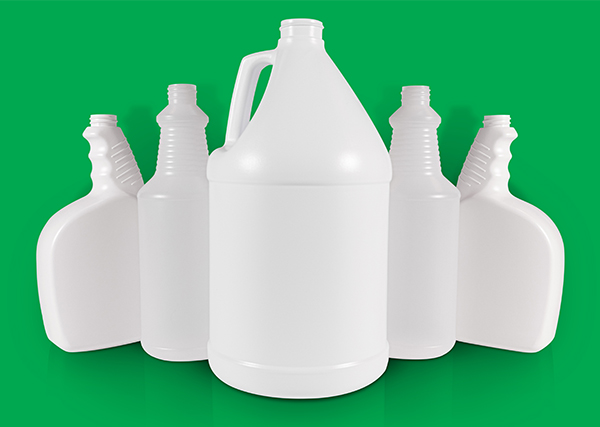 May 16, 2022 – Hillsborough, NJ – Five of the top-selling SKUs produced in Pretium's Leipsic, Ohio, plant – known to many Midwest customers as the former Patrick Products plant – are now being stocked in Pretium's Hillsborough, New Jersey location. HDPE Industrial Gallon Rounds, 32oz Decanters and 32oz Pistol Grip Sprayer bottles are all available now at market-competitive prices for truckload quantities. Each of the in-stock items is manufactured on high-cavitation, automated blow molding equipment that yields consistent quality.
Because freight costs are a factor for large format bottles, Pretium's East and Central Regional teams collaborated to develop this unique stocking program that brings these popular SKUs to customers outside of the Midwest. The new East Coast Stocking Program means reduced freight costs and immediate availability for items included in the stocking program.
"For many years, customers further east have wanted the consistent quality and excellence that Patrick Products has offered to the market, but significant freight concerns with rising prices and availability have made those partnerships harder to support," says Lawrence Monroe, Vice President of Sales for Pretium's household & commercial chemical packaging division. "Our new program in Hillsborough will alleviate those concerns, and allow our customers the needed flexibility to most effectively manage their businesses in the area. We've launched this pilot program around our most-requested items, but Pretium would certainly consider adding other colors, gram weights and bottle styles to the stocking program to satisfy East Coast demand patterns." The items in the stocking program are traditionally bought in full truckload quantities, but can be purchased with a 4-pallet MOQ.
Items included in the initial stocking program include:
· 32oz HDPE Decanter Rounds with 28-410 necks, in Blue-White and Natural
· 32oz HDPE Pistol Grip Sprayers with 28-SPH necks in White
· 1-gallon HDPE Industrial Rounds with 38-SPH necks in Blue-White and Natural
To place orders for available inventory, please contact your Pretium Key Account Manager or send an inquiry to info@pretiumpkg.com. Companies interested in ordering samples should visit www.pretiumpkg.com.